Throughout the year, the Rendell Center delivers special programs that are based on fresh content, current events and civic holidays.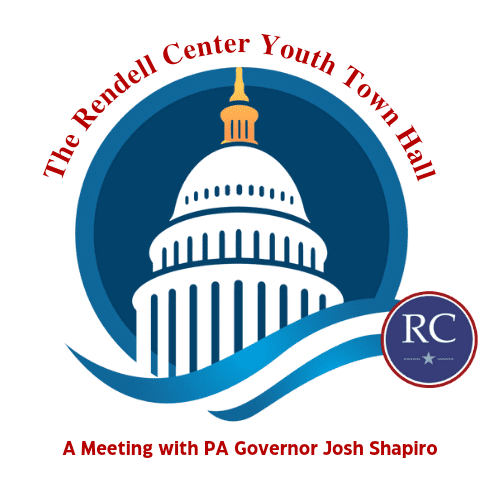 A Governor is elected by the people of a state to serve as the head of its government
He or she has many responsibilities. The goal is to make his or her state a great place for its citizens to live. As residents of Pennsylvania, you have many ideas on ways to make your State great. As elementary students, you also have ideas on how to make your school experience great.
Pennsylvania has elected its 48th Governor – Josh Shapiro. This is your chance to share your ideas with the new Governor and here's how…
Work together as a class to come up with the best question for the candidates on how they would improve your school and/or community. Brainstorm many ideas and decide as a class the best question to submit. Try to be as creative and original as possible.
Once you have your class question, please submit it using the form.
A team from the Rendell Center for Civics and Civic Engagement will select 10 questions to present to the Governor during the Youth Town Hall. The Town Hall is hosted by the Rendell Center and will be held on April 18, 2023 at 1:00 pm via Zoom. If your question is selected, your class will be invited to virtually present the question to the Governor in this unique virtual experience. The Youth Town Hall will be livestreamed across the Commonwealth. Tune in on April 18 @ 1:00 pm to hear the Governor's response to the students' questions.
This is a fantastic opportunity to have the student voice heard by Governor Shapiro. The Rendell Center has additional material which can be used to develop the questions or as follow-up material in preparation for the April 18 event. 
Get involved, express your voice, and submit a question by April 13.
Check out the video replay of our Youth Town Hall.