This FREE webinar is a joint program offering of the Rendell Center for Civics and Civic Engagement in cooperation with the Annenberg Public Policy Center
 of the University of Pennsylvania.
Is Judicial Independence Under Siege?
Understanding the Roberts Court in the 2022-2023 Term
In American society, judges are expected to make impartial decisions based solely on facts and the law and not be affected by partisan politics or the political climate. However, the decisions by the Supreme Court Justices in June 2022, following its leaked draft decision in the Dobbs case overturning Roe v. Wade, the public comments by the justices over the last term, and the revelations and discussions dealing with the ethical questions surrounding the Court, continue to cause many people to believe that the Roberts Court is under siege, both internally and externally.
This two-part program, will delve into the direction of the Roberts Court and its major cases in the 2022-23 Supreme Court term.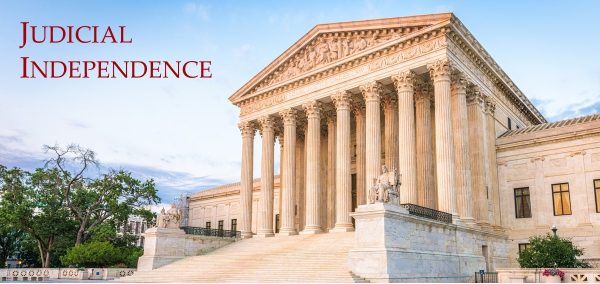 Session ONE – June 28th @ 12:30pm (Eastern)
Teaching Constitutional Law: Understanding the Supreme Court's Transformation
Join us to explore the Court's shift from a judicial to a politically influenced institution over the past five decades. Through a comprehensive analysis of legal, historical, and political factors, including justices' extrajudicial comments and behavior, we'll trace the journey from the Nixon Court to the current Roberts Court.
Gain valuable insights for teaching about upcoming cases and understanding the Court's current term.
Discover the implications for its future trajectory.
Join us to explore the profound impact of the Supreme Court's evolution on constitutional law education.
Session TWO – August 8th @ 12:30pm (Eastern)
They Did What?: A Review and Analysis of the Roberts Court's Major Decisions in the 2022-23 Term 
Join us to explore the Court's major decisions this term. We'll analyze cases like University Affirmative Action, Biden College Loan Forgiveness, Marriage Website Designer vs. Same-Sex Marriage Rights, Voting Rights Act, and Free Exercise of Religion.
Discover the precedents set and their potential impact on the Court's future direction.
Explore shifts in voting patterns from the previous conservative super-majority.
Gain updated knowledge of the Roberts Court and its historical significance.
Participating teachers can expect to develop both content knowledge and skills as we examine the need for and current state of judicial independence in the United States. Webinar participants will:
Engage in in-depth study of constitutional and Supreme Court case law.
Explore how the shifting voting alliances and decision-making approaches of the current Court are affecting the behavior of the justices and the case voting decisions.
Gain a better understanding of judicial independence, the relationship between the Supreme Court and the other political branches of government, the overall shifting legal and political trends in the United States as compared to previous historical eras, and the direction in which the Supreme Court may be headed in future decisions and actions.
(And did we mention it's FREE?)