The Rendell Center

brings together thought leaders to discuss the meaning and impact of a fair and impartial judiciary.
A Fair and Impartial Judiciary
At a time when the branches of government are making daily headlines, how do we educate the public about a fair and impartial judiciary and its vital role in our democracy? The Rendell Center for Civics and Civic Education, in partnership with the Annenberg Public Policy Center, brought hundreds of lawyers, scholars, judges and thought leaders to the Penn Law School on October 26, 2019 to address vital questions in a series of panels, including a day-closing keynote session with Associate Justice of the Supreme Court Anthony Kennedy.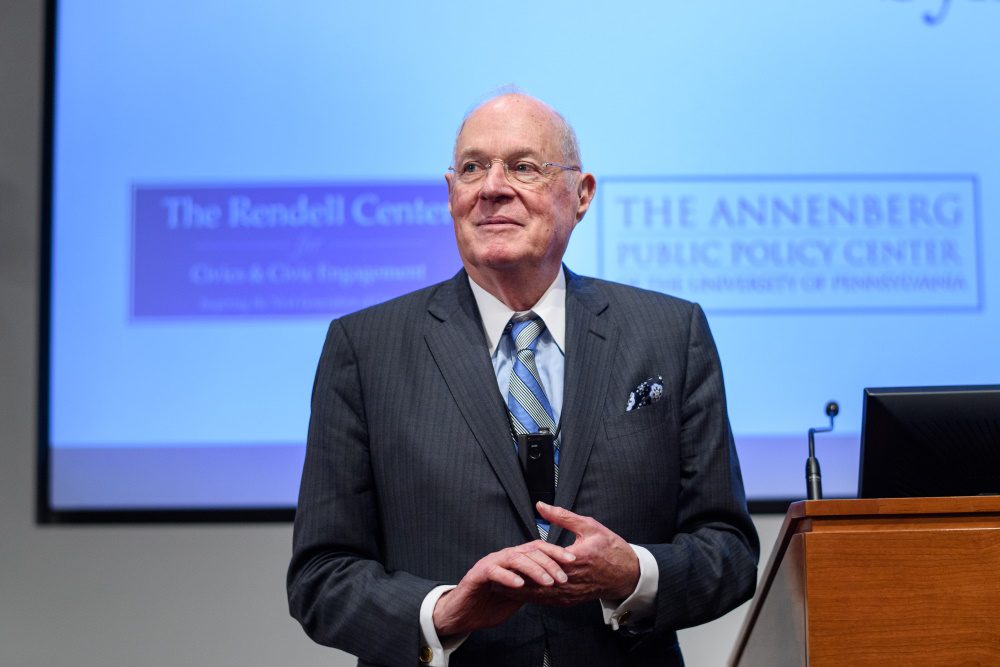 Opening remarks – Dean Theodore Ruger, University of Pennsylvania Law School, Dr. Amy Gutmann, President, University of Pennsylvania, Honorable Marjorie O. Rendell
What Does Fair and Impartial Judiciary Mean and Why Is It Important? Dean David Levi – former Dean Duke University School of Law
State vs. Federal Courts – Lynn A. Marks, Esq. (Moderator), Honorable Renee Cohn Jubelirer, Robert Heim, Esq., Honorable Theodore McKee
Penn President Amy Gutmann set the tone for the day in her welcoming remarks by saying, "Nothing in my mind is more fundamental to the future of American democracy than civics education and the rule of law, the independence of the courts, and a free and impartial judiciary."
What are the Challenges to Judicial Independence – Professor Charles Geyh, Indiana University Maurer School of Law
A Thought Leader Dialog – Honorable Marjorie O. Rendell (moderator), Paul Clement, Esq., Kathleen Sullivan, Esq.
How Do Judges Decide Cases? – Honorable Anthony J. Scirica, Professor Stephen Burbank, University of Pennsylvania Law School
Is the Supreme Court Different? Dean Theodore Ruger, Linda Greenhouse
Deciding Difficult Cases – Jeffrey Rosen, President and CEO, National Constitution Center (Interviewer), Honorable Emmet G. Sullivan
Civics 101: How to Impart the Importance of Judicial Independence to the Average Citizen – Chris Satullo (Moderator), Professor Kim Wehle, University of Baltimore School of Law, Thomas L. Jipping, Esq., Michael Smerconish, Esq., Chancellor Phoebe Haddon, Rutgers University
The Nature of Judicial Independence – Justice Anthony M. Kennedy, Dean David Levi & Honorable Stephanos Bibas (Interviewer)